The challenge
Finding the right audience
I was given a story (based on "who is doing what and why" approach) and had five days to come up with wireframes and unpolished high fidelity prototypes and hand over the documentation of the research I've done with all the UX deliverables. Being so limited with the time the challenge was finding the right users who would be willing to participate in the interview sessions and then validate the ideas and wireframes that I came up with.
I spent some time researching the competition to see what are users expectations and how they used similar applications. This was very insightful, but a lot of these applications were very complex and I wanted to keep this simple and concentrate on the main user goal: finding a replacement for a day or swap shifts with somebody else.
My Role
interviewing stakeholders
creating story board and empathy maps
defining use journey and highlighting the top pain points
sketching wireframes
usability testing and iterating based on feedback
The approach
Empathize to understand the user better
For research purposes, since my time was limited, I decided to talk to eight friends who all had different jobs but could potentially find this application useful. I set up contextual interviews with each one of them to collect the data around what they do, how they solve these problems now, what are their top pain points, and how would they envision the ideal solution. I concentrated only on the qualitative data I managed to collect.
Empathy Map
Based on the information I gathered, I decided to create empathy maps to add an extra layer of meaning and empathy for users. I was able to better understand what each user says and does, thinks and feels, while trying to accomplish their tasks. I was able to highlight their pains and their goals and needs.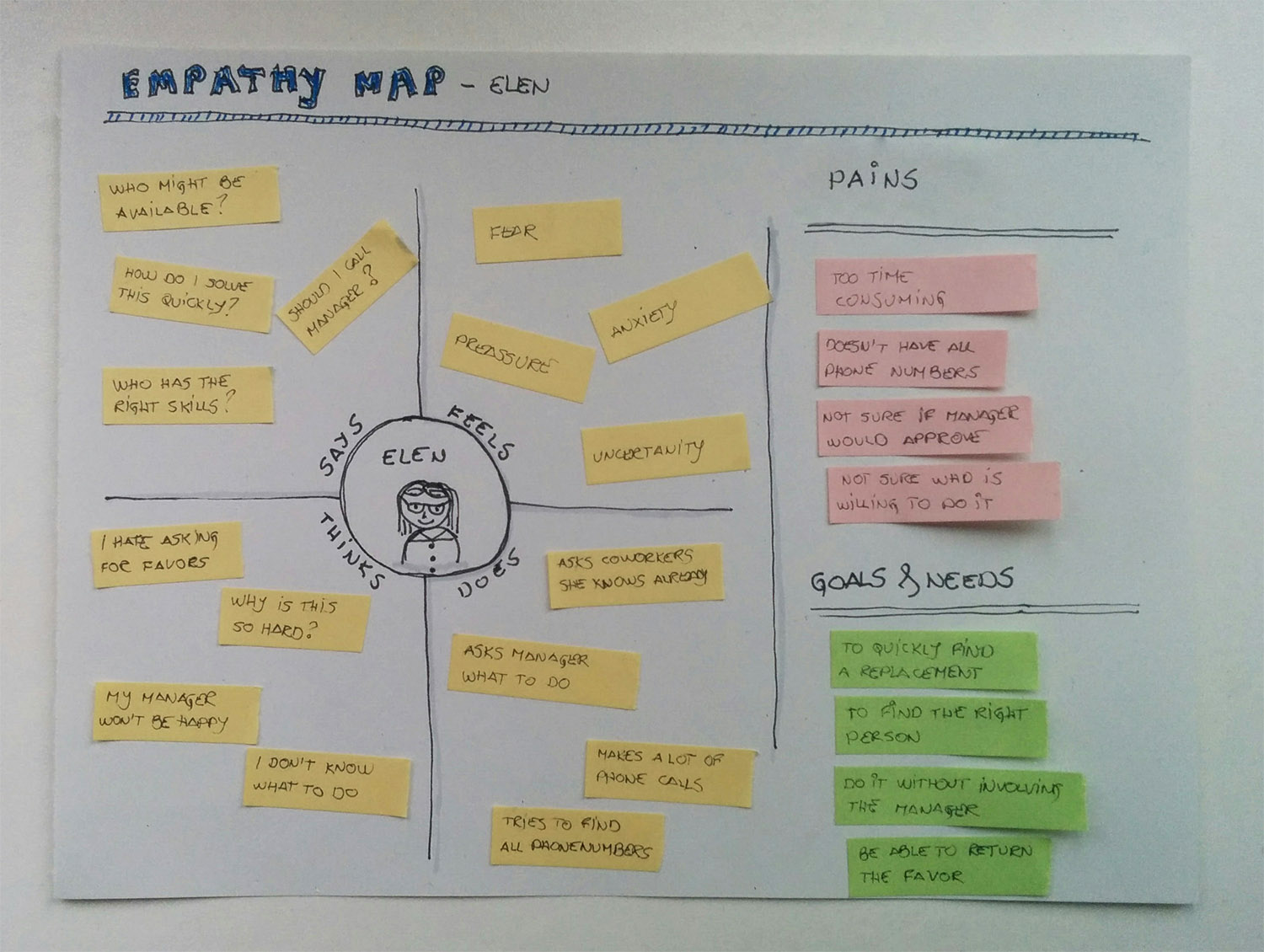 Identifying where the problem occurs
Just as an exercise, I decided to create a storyboard, to better illustrate the problem and then made a simple journey with the steps each user takes and highlighted each step that contained a pain point and worked on addressing those.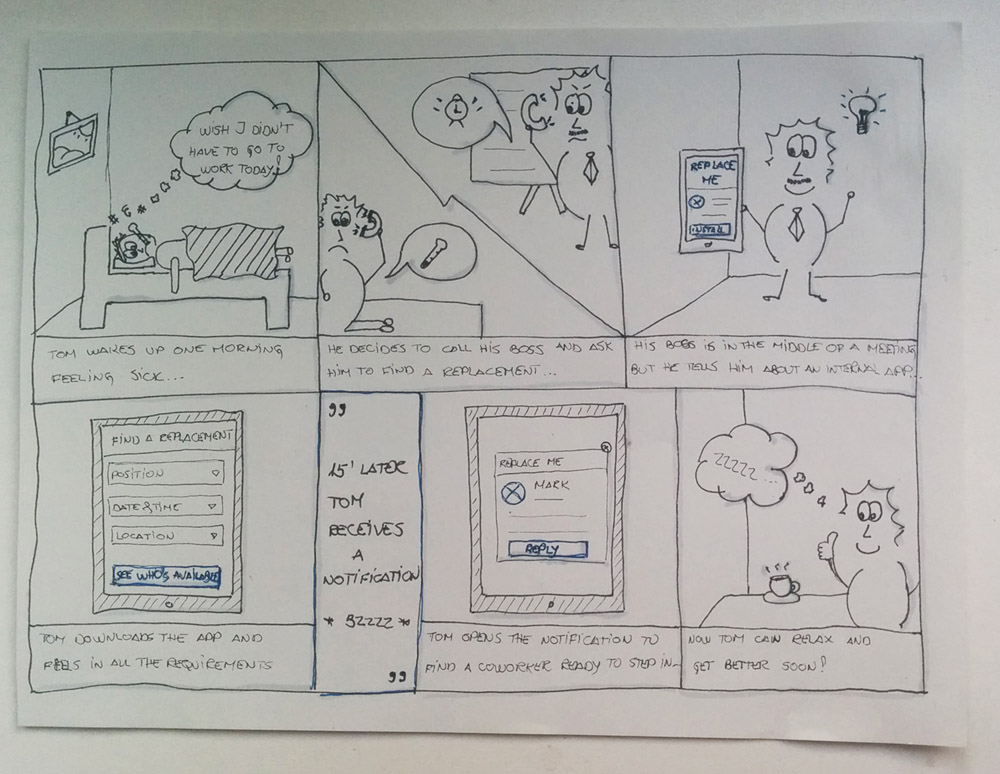 Ideating
I worked on coming up with different solutions and brainstormed ideas around solving these problems. I tried using Crazy Eights - from design sprint kit, to boost my creativity. It turned out, even though all users I talked to had different professions, their needs were very similar.
They all wanted to have the possibility to send their requests to multiple people based on their job position and location. Most of them found the option to trade shifts very useful. And of course, they wanted to be able to set their own availability and see their and other relevant requests in their personalized calendars.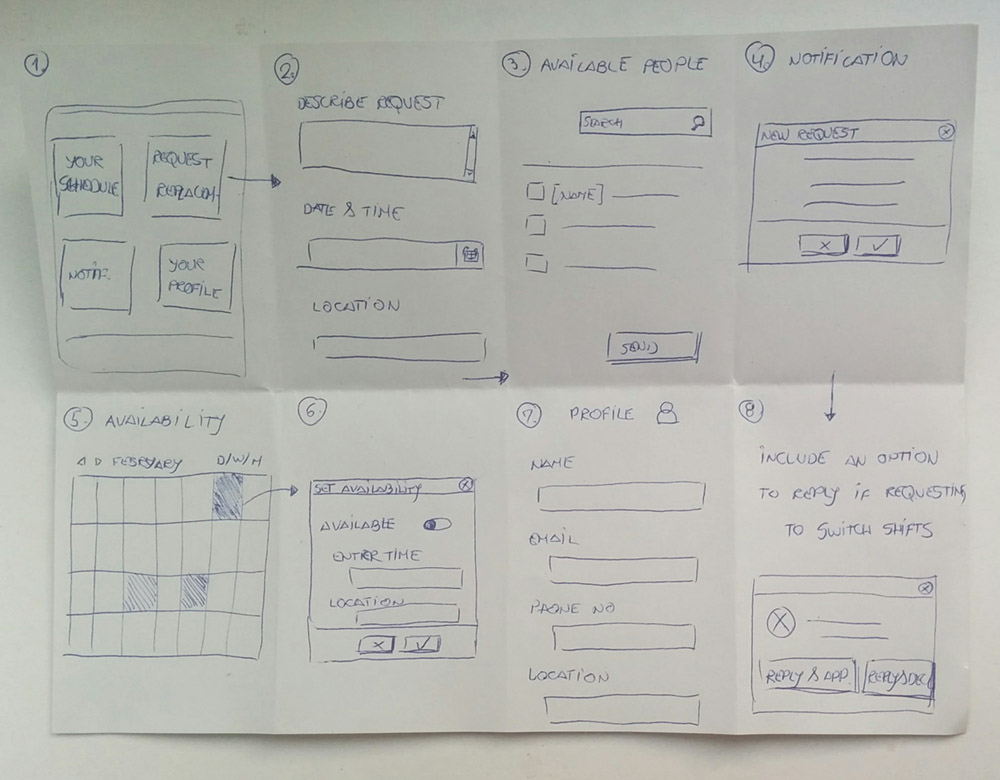 Second round of feedback
I tested these ideas to gather feedback around what went well, what could be improved and wrote down new questions and ideas that surfaced during this process. After second iteration of the wireframes I was almost running out of time, so I decided to finalize my research and validate the ideas with some quick street testing.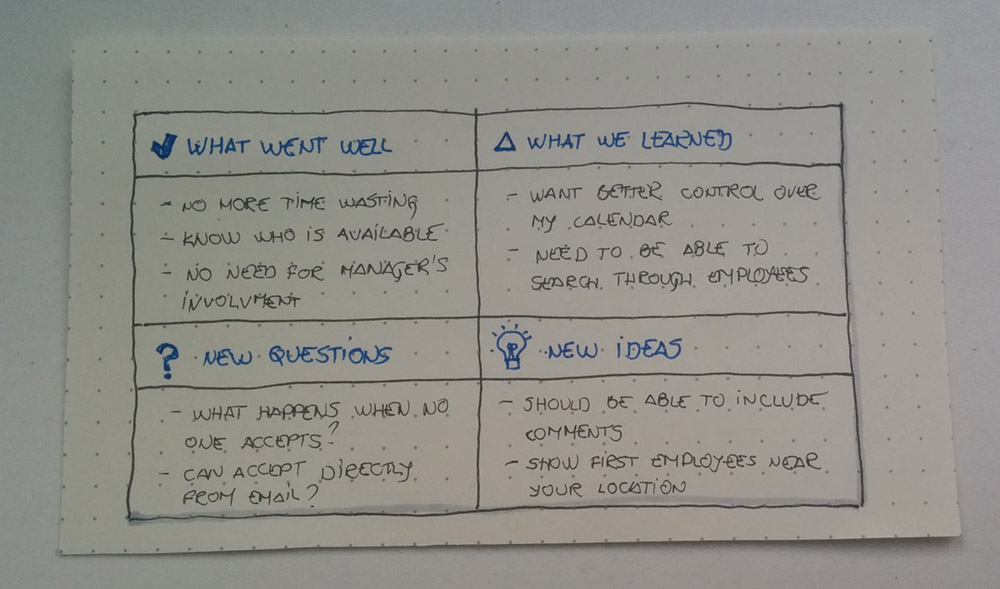 Final results
UX deliverables
Even though though there was not enough time to do any quantitative user research, so I could not back up my findings with any numbers, I had all deliverables ready for the due date: contextual interviews, empathy maps, storyboard, user journey, wireframes and high fidelity prototpyes of two screens.
Key Learnings and Takeaways
This was an interesting project because even though the deadline was tight, I was able to go through all the steps of design thinking process and completely concentrate on the user and design for them. This was a rare opportunity because in real life scenarios, due to lack of time and budget, some steps usually have to be omitted. I've made some mistakes along the way but learned a lot:
Being specific matters - know who you're designing for, it's hard to make a product that will work for everyone
Having limited time makes you think faster and be more productive
Contextual interviews take time but are the best starting point
Don't forget usability testing - it is an eye opening experience
Up next: Challenges we faced when making an outdated product work on any device.